Human beings are products of their environment. I wasn't born stylish; for the majority of my childhood I actually opted out of wearing clothes, and instead enjoyed painting my exposed body instead of a canvas. No one likes to admit they are in any way similar to their parents, but as my physical features become strikingly resemblant to my mother and father, I begrudgingly admit that my "passion for fashion" stems from admiring Roberto and Mona Lisa.
Despite his bizarre King Baby jewelry phase and affinity for Spongebob t-shirts, my dad presented himself as a powerful and commanding leader through the plethora of outfits his four closets offered him. He brought me to search for "the best white oxfords known to mankind" and maybe valued my opinion when I told him how heinous the flamboyant shoes looked. Now, because it would make him furious (Mintz's do not like to share) and because I miss him, I wear his shirts and jeans and watches to emulate his style and keep him close. The white oxfords are nowhere to be found.
On the other hand, my mom has worn a uniform of luxurious black and white separates for the entirety of my life. And guess what two colors are my favorite? Black and white. No, I am not a zebra; I am merely a product of my environment. But my love of fashion did not develop from ogling my mom's Prada handbags (not even when she gave me one to keep as my own).
Freshman year when I wasn't at field hockey or soccer practice, my afternoons were spent at the bookstore across the street from school pouring over pages and pages of fashion magazines; I became enamored with the world of fashion through these beautiful tomes from foreign locations like Italy and Japan. Reading CR Fashion Book and Garage Magazine and Número not only inspired me to ditch my Uggs and adopt napkin skorts as a primary wardrobe staple, but also showed me where my love of writing, art, design, photography, music, travel, and beauty could intersect and intertwine without sacrifice. It was whilst reading POP that I realized I wanted to become a fashion journalist, and was in the instant of buying i-D that I realized I should start a blog. I am forever indebted to fashion magazines -- without their influence, who knows what I would've become?
Anyone that reads any kind magazines knows that at least fifty percent of the content is advertisements. But you catch see me complaining; I see sartorial campaigns as small works of art, masterpieces painted by incredible photographers, stylists, designers, makeup artists, and models to appeal to everyone. Fashion adverts, like the magazines they are housed in, are a collision of art, fashion, design, and even music -- they are dramatic, understated, sleek, and attractive. Companies pick specific faces to represent their brand in the best possible ways; didn't Chanel become more appealing to younger crowds with Cara and her bountiful brows as it's muse? Didn't Tom Ford adopt a new kind of sex appeal when Gigi was the focal model of the brand's AW14 campaign? Didn't Estee Lauder suddenly become "cool" when Joan and Kendall were named faces of the brand? My point exactly.
For this Weekly Wishlist, I've highlighted the recent spreads that I deem my current favorite fashion campaigns. Each advert, whether viewed on a screen or in a magazine, transports me to another world -- hopefully they will have the same effect on you.
Model Naomi Campbell
Photographer Ellen von Unwerth
Campaign Agent Provocateur S/S 2015
Models Adriana Lima, Joan Smalls, Rosie Huntington-Whiteley, Isabeli Fontana, Crista Cober
Photographer Mario Sorrenti
Set Design Pascal Dangin Hair Bob Recine Makeup Lucia Pieroni
Campaign Balmain S/S 2015
Model Anna Ewers
Photographer Steven Klein
Campaign Alexander Wang Denim
Model

Daria Werbowy
Photographer Tyrone Lebon
Campaign Céline Resort 2015
Models

Daria Werbowy, Natalie Westling
Photographer Juergen Teller
Hair Jimmy Paul Makeup Dick Page
Campaign Céline FW 2014/2015
Model Rosie Huntington-Whiteley
Photographer Daniel Jackson
Campaign Prabal Gurung FW 2014/2015
MODEL

Gisele Bündchen
PHOTOGRAPHER JUERGEN TELLER
stylist katie grand MAKEUP DICK PAGE
CAMPAIGN sonia rykiel fw 2014/2015
MODELS

karmen pedaru, joan smalls, suvi koponen, anja rubik, natasha poly, nadja bender, raquel zimmerman
PHOTOGRAPHERs mert & marcus
stylist edward enninful hair orlando pita
CAMPAIGN gucci fw 2014/2015
MODEL

Cole Mohr


PHOTOGRAPHER Juergen Teller
CAMPAIGN Marc Jacobs S/S 2014
MODEL

Daria Werbowy


PHOTOGRAPHER Karim Sadli
ART DIRECTOR Franck Durand makeup yadim
CAMPAIGN isabel marant s/s 2014
MODELs

adrien sahores, janis ances


PHOTOGRAPHER alessio bolzoni
stylist mauricio nardi
CAMPAIGN Kris van assche S/S 2014
MODEL

Tim schuhmacher


PHOTOGRAPHER Awilly vanderperre
CAMPAIGN dior homme S/S 2014
MODELs

Edie campbell, ben waters


PHOTOGRAPHER David sims
Stylist joe mckenna
CAMPAIGN jil sander s/s 2014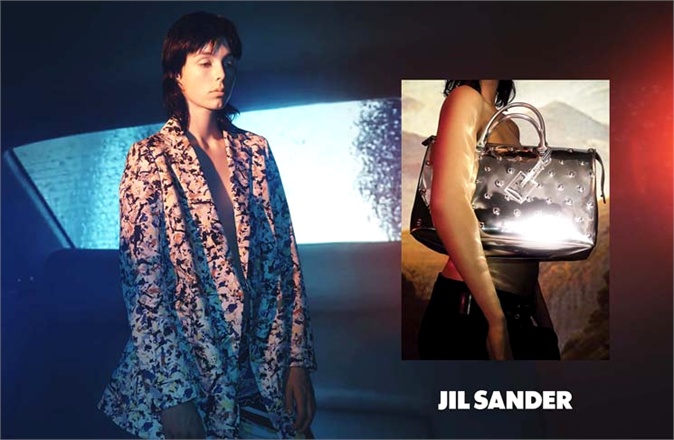 MODEL

tommaso de benedictis


PHOTOGRAPHERs mert & marcus
CAMPAIGN gucci s/s 2014
MODELS

amanda wellsh, elisabeth erm


PHOTOGRAPHERs mert & marcus
CAMPAIGN gucci s/s 2014
MODELS

anna ewers, cindy bruna, sabrina ioffreda, ashleigh good, amanda murphy, ophelie guillermand, lexi boling, ola rudnicka, maggie jablonski, nastya sten, malaika firth, julia bergshoeff, lieke van houten


PHOTOGRAPHER steven meisel
CAMPAIGN prada s/s 2014
Keep your eyes peeled for a post outlining all the best fashion mags worth reading.
Thoughts?