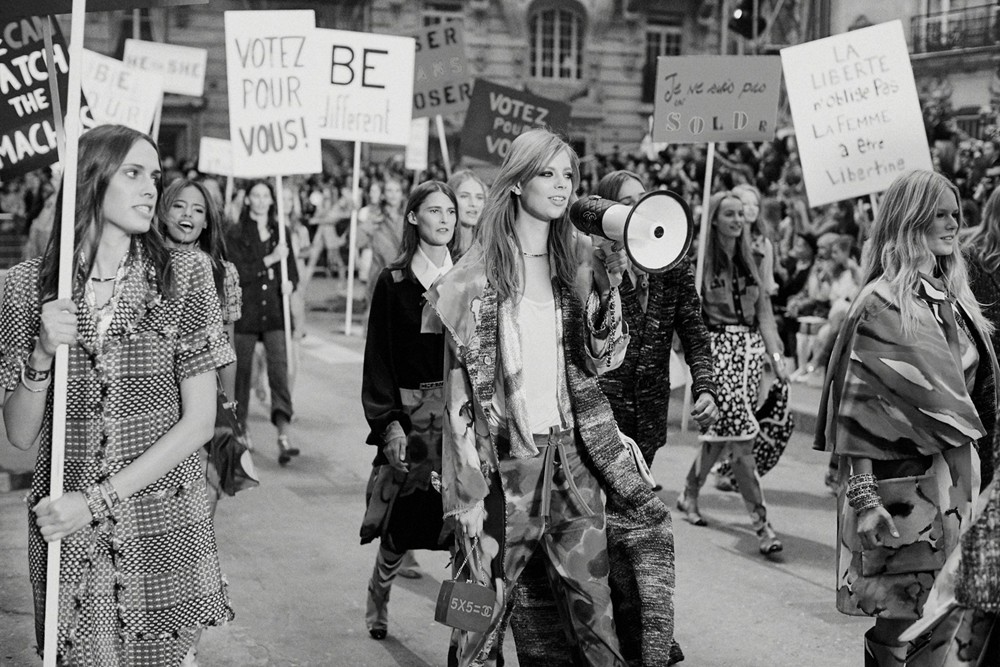 I love feminism and I love being a feminist. I love fashion. I do not love, however, when feminism is ridiculed or satirized in the name of fashion -- as it seems Karl Lagerfeld as done for his Chanel show last night in Paris.
I stand conflicted. I believe that Lagerfeld re-purposed the hot topic of feminism to attract attention to himself and the brand at his helm. Is he mocking a sincere movement by parading models down the runway with signs reading "BOYS SHOULD GET PREGNANT TOO" alongside legitimate signs reading "HE FOR SHE" and "HISTORY IS HER STORY"? And what about the sign reading "TWEED IS BETTER THAN TWEET"? Does that make any sense to anyone? It doesn't make sense to me.
On the other hand I feel like this SS15 show is an entirely celebratory and statement making testament to our modern situation that featured important models like Cara, Gigi, Gisele, and Kendall that are not only beautiful faces but beautiful people. These girls are strong, independent, hardworking, diligent role models that are fantastic feminists.
Sure, it's Chanel. But is this okay? Or is it crossing the line? Is this history? Or is this tokenism? I am torn. Dearest readers, I know you rarely comment on my posts but today it is imperative that you do; I want to know -- I need to know -- what you think. We're all feminists, we're all fashionable, and we're all opinionated. Tell me what you think, and tell me now. Ladies first.
Images via Dazed Digital and MTV UK.
Thoughts?