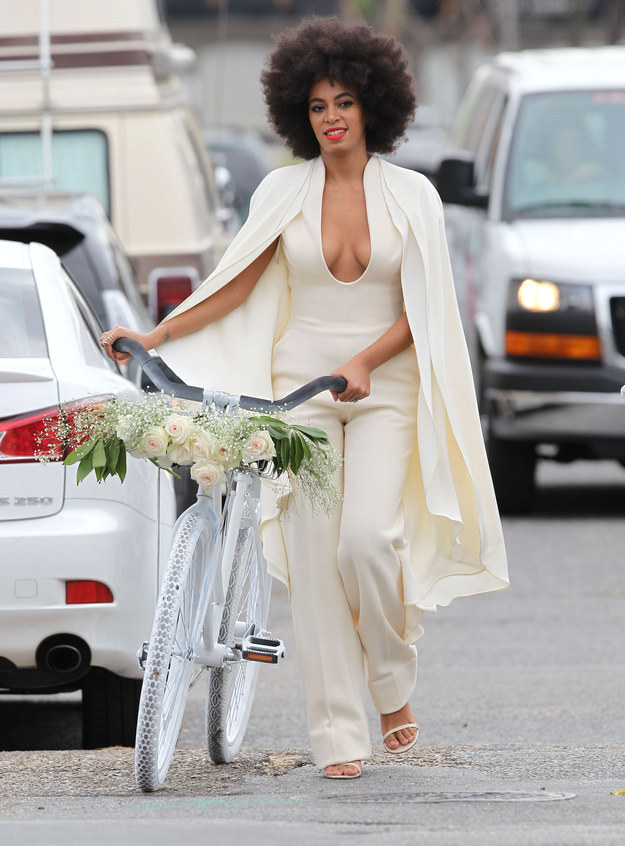 Pants, strangely enough, have been a longstanding symbol of power. These tubes of fabric sewn together are not solely creators of ghastly muffin-tops but are also metaphoric symbols of control - individuals often chide that he or she "wears the pants" in his or her relationship, signifying that they hold the upper hand in whatever situation is focal. And while it isn't typical to think of pants politically, being able to literally and figuratively "wear the pants" has been an uphill battle for women for centuries.
Although prevalent now, feminist movements were central even in the mid-19th century when women petitioned for suffrage and other means of equal rights. These pioneers wanted to ditch their heavy, constricting dresses amidst their political upheaval; activist Amelia Bloomer introduced a newfound two-legged style of clothing designed especially for women in her popular newspaper The Lily. Thus, the feminine style of pants was coined "bloomers". Approximately one-hundred years later, blue jeans emerged in San Francisco via Levi Strauss. Strong, famous men like Elvis Presley and James Dean donned denim as an act of rebellion against the prudish, conservative society, and soon enough women adopted the pants as a form of counterculture. Until 1970, however, countries like France prohibited women from wearing pants in certain public places, such as schools, offices, and restaurants.
Nowadays, of course, pants are legal and adored by both men and women. They can be either striking or relaxed, comfortable or restricting. Everyone seems to have a closet full of blue jeans, and most likely is dominate in one relationship or another. Nevertheless, it is important to acknowledge that men are not the only ones who get to wear the pants.
Jumpsuits have been popular even before Jerry Hall and Bianca Jagger channeled Mick's dance moves at Studio 54 in the late 1970s. Iconic photographs of the two women's daringly stylish jumpsuits serve as continual inspiration decades later, as the functional one-piece garment secures itself as a staple on both the runway and the red carpet. Jumpsuits are comfortable and simplistic, yet confidence is a vital attribute in wearing such a demanding statement piece. (Clothes should never wear the woman, after all.) Time and time again, it can be noticed that the gown, with it's long body and ubiquitous presence, is surrending to the commanding structure of the jumpsuit.
I, for one, am fond of both gowns and jumpsuits. Long dresses are beautiful, accentuating, and understandable. But jumpsuits are unique. They do not allow one to slip into a party unnoticed. They restrict bathroom breaks while allowing for endless dancing, sitting, and squatting galore. Comfort is unparalleled in the face of restriction; a skintight, long gown doesn't allow for the spontaneous kicks and leaps that a jumpsuit encourages.
I wore a jumpsuit to prom. Black and extremely body-conscious, my La Petite Robe di Chiara Boni jumpsuit earned me more compliments than I can count, but more importantly forced me to assert myself with unapologetic presence. I wanted to channel Bianca Jagger, in all her breathtaking glory, and in turn created my own ideal of power dressing. Donning pants to prom reminded me that wearing clothes that reflect my inner personality make me feel the most comfortable and carefree. (Granted, I only went to the bathroom once that night.) The beauty of a jumpsuit and its effects not only on my sartorial desires but also my mental infrastructures inhibited me to seemingly idolize the garment, and encourage every woman to "wear the pants" every and any time she wishes.
Jumpsuits are for strong women. I believe that inside every woman there is an undeniable strength that drives her forwards through every obstacle. We are deemed to be the "weaker gender", yet through our clothes and our accomplishments we can assert ourselves to be the unbreakable powerhouses we know ourselves to be. Our voices exemplify our passions and our beliefs; because we are women, we might have to fight a bit harder to ensure what we have to say is acknowledged. "Wearing the pants" via jumpsuit can catapult our confidence to new heights - power dressing inhibits inner power, and self-assurance is sexy. Let's thank Bianca.
WEAR YOUR OWN PANTS, BECAUSE YOU KNOW YOU'RE POWERFUL:
Molly Mintz photographed wearing a La Petite Robe di Chiara Boni jumpsuit, BCBG heels, and vintage earrings. All other images via Getty.
Thoughts?